Passover/Feast of Unleavened Bread

APRIL 23-30, 2024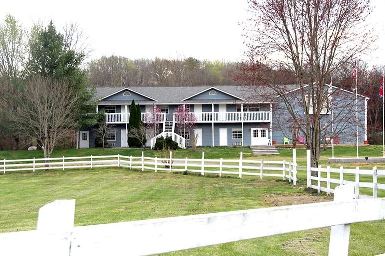 16 Bedroom Main Lodge
Passover will be at Sundown, after that Daily Services will be at 11AM.

Deut 16:16 "Three times a year all your males shall appear before the LORD your God in the place which He chooses: at the Feast of Unleavened Bread, at the Feast of Weeks, and at the Feast of Tabernacles; and they shall not appear before the LORD empty-handed."
We will return to Dandridge, Tennessee this year and have rented the main lodge for celebrating Passover and the Days of Unleavened Bread this year. We will check in on Monday 4/22/2024 and check out Thursday May 2nd before 10AM. This location has it all for a perfect getaway with everything needed for a holy day gathering. The lodge is less than 500 yards from Douglas Lake.
This lodge has 16 rooms each with it's own private bathroom and a adjustable heat and air unit. The 1st floor has 8 bedrooms with two Full size beds and a bathroom. 1 of these rooms is equiped with a handicapped bedroom and bathroom The 2nd floor has 6 rooms with two Queen beds and a bathroom, 1 room has two Queen beds, two Twin beds and a bathroom, 1 room has one Queen size bed, a love seat and a bathroom. Linens are not provided so please bring your own sheets, pillows, towels, washcloths and toiletries.
The main Fellowship Hall can hold 100 people with tables, chairs, several sofas and loveseats, a Smart TV, DVD player, cable, WiFi and a fireplace. The kitchen has a large serving area with 2 refrigerators and 2 stoves with ovens. There is no eating in the bedrooms.
For informaition and pictures on the 16 Bedroom Main Lodge CLICK HERE
If you desire to observe a Feast where there is love, sharing and fellowship with one purpose - worshiping God, THIS IS THE PLACE! The lodge is located at 2865 Mountain Ranch Drive, Dandridge, TN 37725 If you are going to attend, please MAKE A RESERVATION TODAY! Rooms are limited and it is First Come - First Served! To reserve a room at the lodge, call Mark Carr at 865-254-5420 ASAP.
NO SMOKING / NO PETS
Rooms in the Lodge are $650 each for the entire time! Preference is given to those that stay the entire time. If you need just a few days, you are put on a standby list.
Check In: 3:00 p.m.
Check Out: 10:00 a.m.